How does Trombino Scolaire manage numbers of a student?
In Trombino Scolaire, a student has 2 numbers: The NSN (corresponding to the National Student Number), and an internal school number (corresponding to a number generated by the school) which is considered as unique by Trombino). This last number is used by Trombino to rename students photos.
Can I use photos in another school managment software?
Yes. Photos are stored in JPG format, and put in the subfolder photos/ of the school folder. The name of the file corresponds to the number of the student in the school. If your software doesn't import photos with that number, Trombino Scolaire can export photos using multiple possibilities.

That functionnality is available through the Photos, Export as picture files menu. There, you can copy students photos (for a single student, a single class or all the classes), choosing how the file name will be (using pre-defined formats or creating your own format).

JPG file extention cannot be changed.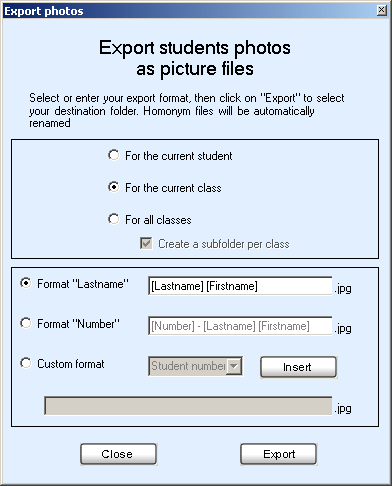 How to add a language, an option or a social category)?
If a data doesn't appear among the list of choices, you just need to type the new value in the first lane of the list and saving the modifications (Students menu, Save the modifications), the new element will automatically available for all the students..
A student wasn't at the shooting. How to link its photo in Trombino Scolaire?
If the student brings its photo in a file, if you scanned it or if you shot it yourself afterwards, you can link this new photo to the student in Trombino Scolaire.
To do so, open the class and select the student. Then click on the Photos menu item on the left pane. Now you can select a folder.
Choose the one where the new photo is (.JPG or .BMP format), "My Pictures" for example.
Validating the folder will list all the photos of the folder.
You just need to drag and drop the picture of the student from the bottom pane to the top right pane of the student pane
I would like a different list from those available in Trombino Scolaire. What can I do?
You cannot create your own lists in Trombino. But don't hesitate to contact us and we will study if your list can be included in a future version or in a custom version for your school.
How can my Students database open automatically on the startup of Trombino Scolaire?
To activate this option, go on the Options menu, then check "Open automatically the last Students database opened", and validate by clicking OK.